Celebrating Women Environmentalists During Women's History Month
Celebrating Women Environmentalists During Women's History Month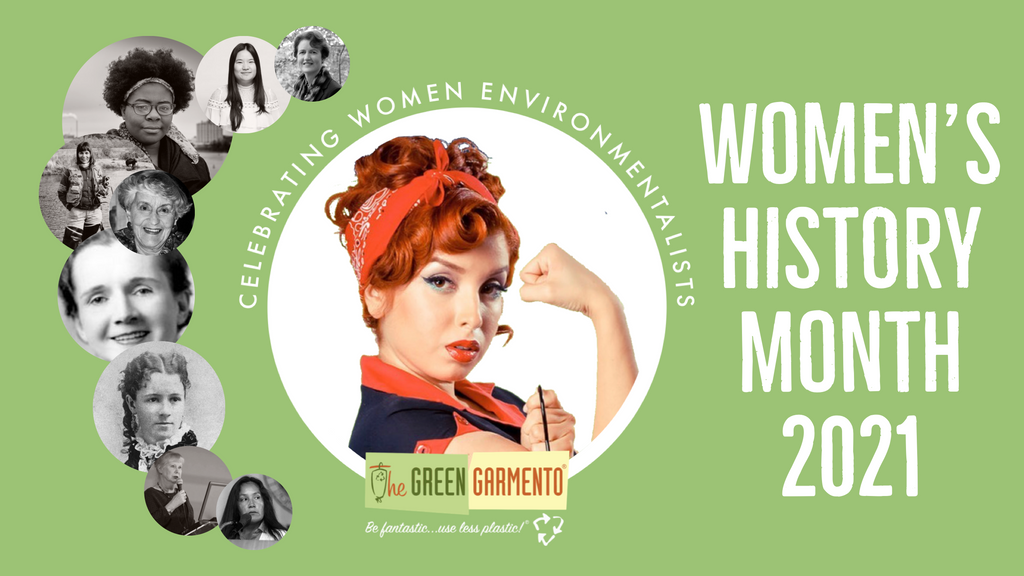 During this Women's History Month, we are highlighting nine American women that have dedicated themselves to protecting the environment. These eco-warriors are just a few of the trailblazers who have paved the way for future conservation efforts. 
Wilma Subra- Microbiologist, Chemist, and Environmental Activist
Wilma Subra is an environmental scientist from South Louisiana, who teaches people in some of the nation's poorest communities to help themselves by using the latest technology to track air and water quality in their own backyards. Subra's analysis allowed community members to correlate their symptoms with the company's reported emissions. She found they were being exposed to 100 to 1,000 times higher concentrations of benzene, toluene, methyl ethyl ketone and other toxic substances than people living in other areas of rural Louisiana. She's a winner of a 1999 MacArthur Genius grant and served as vice-chair of the EPA National Advisory Council for Environmental Policy and Technology. Today she continues to offer technical services to document the exposure of harmful substances in underrepresented communities. She is not on social media, but if you google her name, you will find page upon page of her work that goes back decades.
Photo: Pugetsound.edu
Miranda Wang-Scientist and CEO 
At just 25, Miranda Wang is the CEO and co-founder of the startup BioCellection now called Novoloop, where she uses her degrees in cell and molecular biology and engineering entrepreneurship to transform non-recyclable plastics into biodegradable, reusable materials. The company works with waste management departments to solve the plastic crisis. In 2018, Wang was honored as the United Nations Young Champion of the Earth. You can follow her on Twitter here.
Photo:Twiter.com/mirandaywang
Destiny Watford-Environmental Activist 
Destiny Watford is an American environmental activist. She is known for campaigning against an incinerator project — one of the largest of its kind in the United States, in Curtis Bay area of suburban Baltimore. Watford co-founded "Free Your Voice," a student organization dedicated to community rights and social justice. Following the efforts of Watford, in 2016, the Maryland Department of the Environment canceled the incinerator project. At the age of 20, she received 2016 Goldman Environmental Prize For her work and community leadership. Follow her on Twitter here.  
Photo: Noburn.org
Kate Sessions-Botanist
Kate Sessions (1857-1940) spent most of her childhood living in and around the towering trees in northern California. In 1881, she was the first woman to graduate from the University of California with a science degree, and shortly afterward she moved to San Diego — at the time, a dry city with almost no plant life. After starting her horticultural career with a nursery in 1885, Sessions arranged to lease 30 acres of land in City Park (now called Balboa Park) from the city, in exchange for planting 100 trees a year in the barren park, and 300 trees a year in the rest of San Diego. Today, her gardens and parks are still found throughout the city, and Sessions is known as "the Mother of Balboa Park." If you have not been, you really should visit Balboa Park. Pay homage to Kate Sessions and enjoy the vast gardens, multiple museums, eateries, and San Diego Zoo. See visitation information here.
Photo: San Diego History Center
Mollie Beattie-Conservationist 
Mollie Beattie (1947-1996) was the first woman to be appointed director of the U.S. Fish and Wildlife Service, where she was instrumental in protecting landmark environmental laws, such as the Endangered Species and Clean Water Acts. She had a reputation for political toughness, but also the rare ability to bring together people with different points of view. Mollie passed away after less than three years in her position, but left a powerful legacy, including the reintroduction of the grey wolf to Yellowstone and the creation of 15 new wildlife refuges.
Photo: Walter Stieglitz, USFWS
JoAnn Tall-Environmental Activist
JoAnn Tall is an environmental activist of the Oglala Lakota tribe who has worked to ensure the people have a chance to approve major projects for energy development. She was awarded the Goldman Environmental Prize in 1993 for her protests against uranium mining and plans for testing nuclear weapons in the Black Hills area, near the Pine Ridge Indian Reservation where she lives. Her son Nick Tilsen, is continuing her legacy of conservation and is in the process of building a $60M sustainable community on their reservation.
Photo:Goldmanprize.org
Rachel Carson-Conservationist
Rachel Carson (1907-1964)  Wrote many articles designed to teach people about the wonder and beauty of the living world, including "Help Your Child to Wonder," and "Our Ever-Changing Shore."During the 1950s Rachel Carson conducted research into the effects of pesticides on the food chain and published her most influential work, Silent Spring, which condemned the indiscriminate use of pesticides. The book led to a presidential commission that largely endorsed her findings, and helped shape a growing environmental consciousness, which led to the banning of DDT. She has published 6 books, and dozens of books have been written about her. Check those out here.
Photo: Sciencehisory.org
Marjorie Harris Carr-Environmental Scientist
Marjorie Harris Carr (1915-1997) was an American scientist and environmental activist, who established and lead several conservation efforts in the state, including co-founding the Alachua Audubon Society in 1960 and co-founding Florida Defenders of the Environment in 1969. Her work with Florida Defenders of the Environment which continued until her death in 1997, fought to preserve the Ocklawaha River Valley helped halt construction of the Cross Florida Barge Canal, which is now a public conservation and recreation area named in her honor where you can now enjoy hiking, fishing, camping, and many other outdoor activities. She was inducted in the Florida Women's Hall of Fame in 1996.
Photo: flwomenhalloffame.org
Frances Beinecke- Environmental Activist and Politician 
Frances Beinecke is the current President of the Natural Resources Defense Council. She attended Yale as one of the first graduating classes to include women.  She was appointed by President Barack Obama to the National Commission on the BP Deepwater Horizon Oil Spill and Offshore Drilling. Motivated by a love of nature and dedication to service, in 2007, Beinecke was awarded the prestigious Rachel Carson Award, a premier award which honors distinguished female leaders impacting the environmental world. You can follow her on Twitter here.
Photo: nrdc.org
Written By:  Anni Lundy, Guest Blogger and Green Garmento Enthusiast
women's history month facts, women's history month quotes, women's history month stories, women's history month people, women's history month 2021 quotes, women's history month for kids, women's history month women, women's history month article, women's history month and international women's day