Written by Spencer Kent

Remember our blog post a couple months back about Sun Chips canning their biodegradable bags because of noise complaints? We weren't too happy with their decision then, but it looks like they may have made right.

The Huffington Post is reporting that Frito-Lay has created a brand new version of the bag, this time using a different adhesive to attach the two layers of the bag, "one which protects the food on the inside and one which carries the logo and labels on the outside." This tactic creates sort of a "noise barrier," reducing the offensive 80-85 decibel bag to around 70 decibels, which is around average for chip bags. Additionally, the new bags are still made from plants instead of plastic, and can easily break down in compost.

The new bags are in a trial phase, though. For now, they will only be available for the plain Sun Chips, with the other flavors still being sold in their original non-eco bags. The company has stated that they want to see their customers reactions to this second go before they revamp their entire product packaging again.

I, for one, applaud their efforts at giving this a second try. Change is not a simple thing, especially when people are hesitant to it. It is an inspiration for other companies to get involved with bettering themselves and the world they operate in. If this round goes well for Frito-Lay, one can only hope that they apply environmental tactics to all of their products.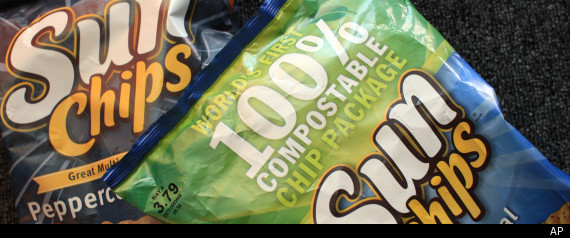 Photo Credit: AP